from
September 5, 2022
to September 30, 2022
Published on September 5, 2022
–
Updated on September 5, 2022
A new Research and Innovation Atlas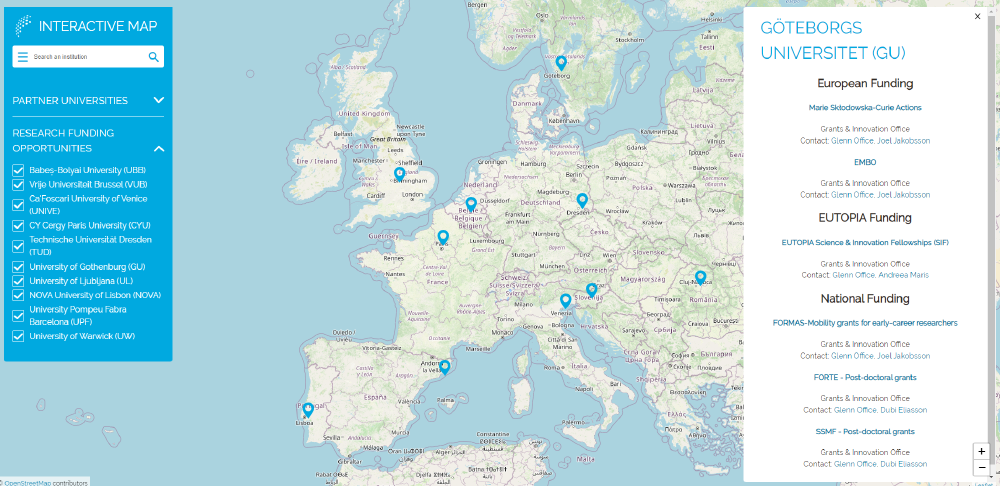 Easy access to information about research and mobility programmes.
In the EUTOPIA TRAIN project, we've created the Research & Innovation Atlas, a map of existing mobility programmes, supported by the EUTOPIA universities. The aim of the Atlas is to create easy access to information about the mobility programmes and to motivate the EUTOPIA researchers to collaborate with each other on research and innovation topics.

The central objective of the Atlas is to distribute R&I opportunities to EUTOPIA researchers from 6 (and later 10) universities with the aim of motivating them to cooperate on specific research and innovation topics. The online Atlas provides information on different funding levels including European, national, regional, and EUTOPIA programmes that are being executed on each of the EUTOPIA universities; the Atlas also contains the contacts of staff in charge of the programmes, to facilitate easy access to additional information.

The Atlas will, together with other tools (such as network of GLENN officers, Infodesk, Partnering tool, Rapid Response Unit), ensure efficient and targeted dissemination of EU and international R&I opportunities across the entire EUTOPIA network. Consequently, with the list of gathered R&I opportunities as well as the functional and interactive nature of the online Atlas, boosting excellence and retaining talent within the alliance is the predicted outcome.

The ultimate goal however is to help researchers gain access to competitive financing by leading them via our university programs and bringing them closer to our professional personnel, who provide assistance both at the GLENN office (EUTOPIA) and at the local level (universities).

For more information please contact: Lori.Sramel-Cebular@uni-lj.si and Maria.Gil@upf.edu.