from
February 1, 2023
to February 28, 2023
Published on February 1, 2023
–
Updated on February 16, 2023
Press Release: European University Alliances Unite for a Joint Certification with EdLab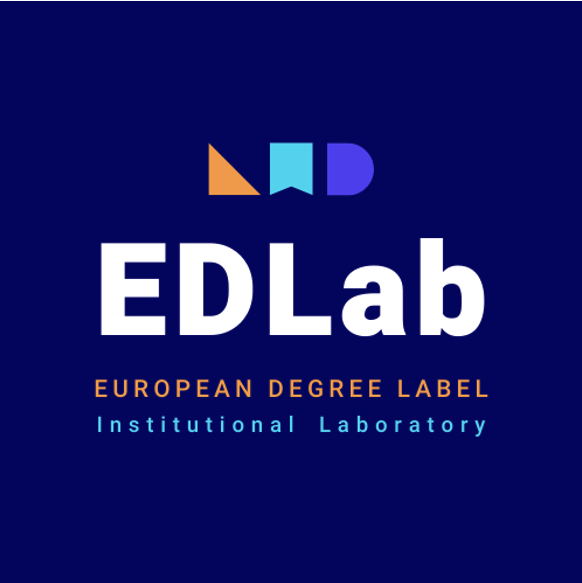 February 1, 2023

A consortium of four European Universities Alliances launched EdLab (European Degree Institutional Laboratory), a project aimed at eliminating barriers to developing joint programmes and degrees across Europe. EdLab seeks to offer a multi-level, multicultural approach to facilitate dialogue and cooperation between universities, national authorities, and quality assurance agencies to remove obstacles such as divergent quality assurance procedures, complex bureaucratic procedures, and conflicting national legislation. Mariya Gabriel, European Commissioner for Innovation, Research, Culture, Education and Youth announced yesterday that EdLab was among the 10 selected pilot projects awarded by the ERASMUS+ programme "European policy experimentation in higher education".

The consortium will focus on four main countries and one region - France, Italy, Portugal, Spain and the Flandres - and will handle three significant aspects of the European Call - mapping and classifying existing joint programs, investigating how joint programs and the Label increase the EEA's global appeal and collaborating with the European Commission to design a pilot version of the Label.

EdLab proposes to:
Analyse the suitability of the criteria proposed by the European Commission for the award of the European Degree (ED) Label;
Map the barriers existing for their fulfilment, with particular but not exclusive reference to France, Italy, Portugal and Spain;
Understand how an ED Label and joint programmes enhance the global attractiveness of the European Higher Education System;
Recommend options for the issue of an ED Label and its format, along with potential barriers to be managed.
EdLab will use qualitative and quantitative methods to address these issues, involving a significant sample of programs, participants, and stakeholders. This will include desk research, screening of programs, qualitative and quantitative analysis, group discussions with national authorities, surveys, the experimental design of the Label, and analysis of the pilot design and issuing process. EdLab will adopt a collaborative approach throughout the project involving senior management, academic coordinators, teaching staff, students, alumni, national authorities, QAAs, student associations, partner alliances, other pilot projects, European Commission, European student associations, and associate partner networks globally. The methods will meet standard criteria for objectivity, reliability, and validity.

The EdLab project is poised to bring about significant positive impacts in the short, medium, and long term. In the short term, the project will increase knowledge of joint programs in European University Alliances and provide information on best practices in joint program design and implementation. Additionally, recommendations on the criteria for awarding the European Degree Label will be made, leading to possible reforms in regulations and legislation. The project will also promote cooperation among consortium partners and strengthen student engagement in policy initiatives. In the medium term, the project is expected to contribute to new regulatory contexts that will make it easier to design, accredit, and implement joint degree programs. In the long term, the quality and attractiveness of the European Higher Education Area (EHEA) and the European Education Area (EEA) will be improved, leading to an improved societal impact of higher education, enhanced employability of graduates, and better preparedness to address global challenges.

Target groups of the project include students, staff, universities, quality assurance agencies, national/regional authorities, global partners, and students, particularly in France, Italy, Portugal, and Spain, where there are currently regulatory and procedural barriers to the implementation of joint degree programs.

The EDLab consortium's full partners are universities from the four countries and one region participating, also members of the following European Universities Alliances: Arqus, ENLIGHT, EUTOPIA and SEA-EU:
UNIVERSIDAD DE GRANADA, SPAIN
UNIVERSITA DEGLI STUDI DI PADOVA, ITALY
UNIVERSITE LYON 1 CLAUDE BERNARD, FRANCE
UNIVERSIDADE DO MINHO, PORTUGAL
UNIVERSIDAD DE CADIZ, SPAIN
UNIVERSITE DE BRETAGNE OCCIDENTALE, FRANCE
UNIVERSITA DEGLI STUDI DI NAPOLI PARTHENOPE, ITALY
UNIVERSIDADE DO ALGARVE, PORTUGAL
UNIVERSITAT POMPEU FABRA-BARCELONA, SPAIN
UNIVERSIDADE NOVA DE LISBOA, PORTUGAL
UNIVERSITA CA' FOSCARI VENEZIA, ITALY
CY CERGY PARIS UNIVERSITE, FRANCE
UNIVERSITEIT GENT, BELGIUM
EdLab also benefits from 13 other universities in the mentioned alliances as Associate partners, plus 7 ministries, QAAs, European and global university networks, students and alumni associations.

The project results will provide a roadmap for a more inclusive and harmonised European university system. The ultimate goal of EdLab is to enhance the global attractiveness of European universities by facilitating seamless mobility and single European degrees and fostering trust in the European Higher Education Area.

For EUTOPIA, the EdLab initiative is particularly significant since projects such as ECOTOPIA aim to create, in the medium term, a joint certification for the universities and schools participating in this internationally-oriented curriculum.

***
EUTOPIA European University alliance brings together ten European universities aiming to become, by 2030, an open, multicultural, confederated operation of connected campuses. EUTOPIA is among the 20 projects twice awarded funding by the European Commission (2019 & 2022) to create a deeper level of cooperation between universities.

EUTOPIA stands for: Academic freedom in search of truth; Excellence as a purpose of our teaching, research and innovation models; Sustainable, responsible and ethical attitudes towards the planet; Cooperation and openness.

EUTOPIA means today 300,000 students, 45,500 staff, 23,700 academics, 874 research units and 139 faculties in ten European countries.

EUTOPIA is today 10 European universities and 4 Global Partners
Babeș-Bolyai University, Cluj-Napoca, Romania
Vrije Universiteit Brussel, Belgium
Ca'Foscari University of Venice, Italy
CY Cergy Paris Université, France
Technische Universität Dresden, Germany
University of Gothenburg, Sweden
University of Ljubljana, Slovenia
NOVA University Lisbon, Portugal
Pompeu Fabra University-Barcelona, Spain
The University of Warwick, United Kingdom

Monash University, Australia
International University of Rabat, Morocco
Stellenbosch University, South Africa
Kyungpook National University, South Korea

Press contacts:Press contacts:
EUTOPIA European University Armando Uribe Echeverría, comms@eutopia-university.eu
Babeș-Bolyai University Laura-Maria Irimies, laura.irimies@ubbcluj.ro
Ca'Foscari University of Venice Francesca Favaro, francesca.favaro1@unive.it
CY Cergy Paris University Laetitia Merciris, laetitia.merciris@cyu.fr
University of Ljubljana Nina Narat Meden, Nina.NaratMeden@uni-lj.si
NOVA University Lisbon Teresa Campos, teresa.campos@unl.pt
Pompeu Fabra University-Barcelona Gerard Vall-llovera, Gerard.vallllovera@upf.edu
The University of Warwick Heather Holve, heather.holve@warwick.ac.uk