The Student Career Ambassador's first year review : 2020-2021
How did they help you? An overview of a year full of opportunities: 2020-2021
The EUTOPIA Career Ambassadors had their first meeting way back in November 2020. Since then they have organized no less than a dozen workshops, with more on the way! Let's take a look at what they have accomplished this year.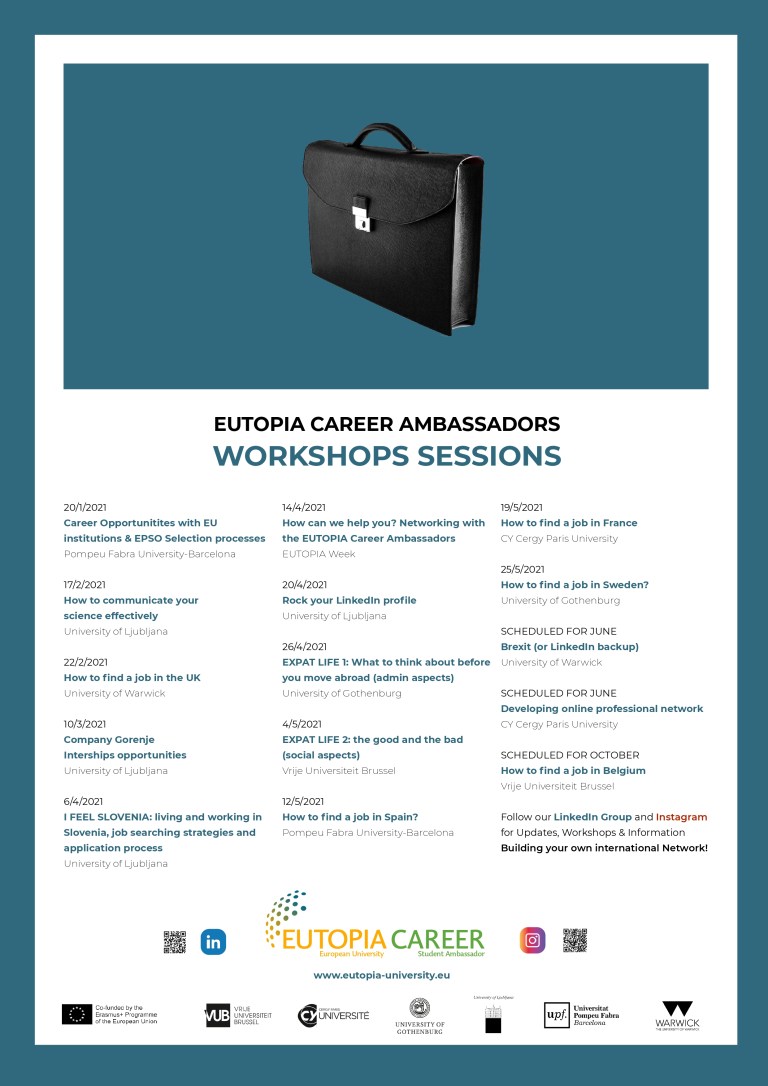 Through the series "How to find a job in.. ?", they have already taught you all you needed to know to write and send your CVs and cover letters in the UK, Slovenia, Spain, France, and Sweden, with a final workshop for Belgium in October 2021.
They've also prepared you for a life of studying and working abroad, how to pimp up your LinkedIn profile, and they've presented to you many opportunities (EU institutions, Gorenje Hisense…).
Averaging around 53 people present per workshop, and up to 120 people for the most successful, we consider this year a great success, but there is room for improvement!
Scroll down to the "Contact" paragraph to see how you can get in talks with the EUTOPIA Career Ambassadors, as well as follow them on social media to stay aware of any and all future workshops!
Contact
You have three ways of contacting the EUTOPIA Career Ambassadors.
The first one is directly via their common e-mail address: eutopia.sca@gmail.com. If you have any questions about who they are or what they do, ask them! They'll answer.
The second is via the Career Ambassador's official LinkedIn account, follow it for news and job and internship opportunities all over the alliance!
The final and third way s through their own Instagram account, @eutopia.sca! Go follow them and get news about future workshops directly there!
https://eutopia-university.eu/english-version/student-career-ambassadors/the-student-career-ambassadors-first-year-review-2020-2021