SIF 2nd Cohort Fellows - Imran Khan, University of Gothenburg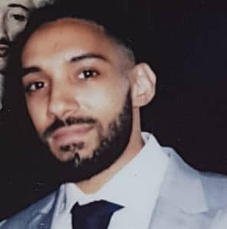 Curriculum Vitae
October 2015 - January 2021, Ph.D. University of Hertfordshire (United Kingdom), Computer Science

September 2013 - August 2014, MSc. University of Hertfordshire (United Kingdom), Artificial Intelligence & Robotics

September 2008 - July 2012, BSc. Liverpool John Moores University (United Kingdom), Computer Games Technology
01/03/2018 - 31/08/2022, Visiting Lecturer, University of Hertfordshire (UK)
A visiting lecturer teaching postgraduate-level courses and supervising postgraduate projects in the School of Computer Science, Engineering, and Physics.

01/01/2022 - 31/03/2022, Postdoctoral Researcher, University of Sussex (United Kingdom)
On the project "Diversity Creates Diversity: Helping Nature-Recovery Meet the Diverse Needs of People and Nature" (funded by the NERC Discipline Hopping Grant)

01/09/2021-31/12/2021, Visiting Lecturer, University of Glasgow (United Kingdom)
A visiting lecturer teaching undergraduate courses and supervising undergraduate projects in the School of Information Technology and Computer Science.

01/09/2014 - 31/09/2018, Senior Data Scientist, Tesco PLC (United Kingdom)
Publications/Research achievements
Research Project
SARP-DCI: Socially-Affective Robot Partners for Digitised Cognitive Interventions

Cognitive Intervention Therapy (CIT) is a form of treatment designed to improve (or delay the loss of) cognitive function in persons with Mild Cognitive Impairment (MCI) - such as dementia or early-stage Alzheimers - and offers an important, more accessible option than traditional, pharmacological treatments. Digitised forms of CIT, such as "gamified" cognitive training tasks, or Socially-Assistive Robots (SARs), propose significant advantages in addressing numerous constraints of traditional interventions; including off-site therapy and precise data monitoring of therapy promoting person-centred care (PCC). Personalisation of these digitized CIT, delivered through SARs, can help in improving the efficacy of these therapies, through long-term engagement with the treatment as well as improving (cognitive-based) task performance. How to achieve these personalised treatments for persons with MCI remains an ongoing challenge.

One way to approach this is for socially-assistive robot partners to personalise the therapy based on a user's "emotional" (affective) state, which can be detected through a combination of verbal and non-verbal social signals from the human partner. Utilising this affective information to personalise the digitised CIT underpins a novel approach for motivating and engaging users to adhere to therapy, and can improve the viability of social robots as long-term therapeutic interventions for patient-centred care.

This project proposes an investigation into whether a "personalised" social robot partner, whose interactions are partly based on a user's emotional state, can be used as a viable therapeutic tool to improve cognitive function (memory) in pre-clinical or Alzheimer's disease prodromal stage patients (with Mild Cognitive Impairment).
https://eutopia-university.eu/english-version/sif-post-doctoral-fellowships/sif-2nd-cohort-fellows-imran-khan-university-of-gothenburg