from
January 16, 2023
to January 31, 2023
Published on January 16, 2023
–
Updated on January 16, 2023
EUTOPIA Week: voices from our community - Ca'Foscari University
Original article from Ca' Foscari Universty of Venice - Link below
From 21 to 25 November 2022, the University of Ljubljana hosted EUTOPIA Week, a meeting of all the universities in the EUTOPIA alliance, which includes 10 European universities which share a vision for the future of European higher education.

The recent nomination of Rector Tizana Lippiello as President of EUTOPIA attests to Ca' Foscari's involvement in internationalisation and to its willingness to play an increasingly active role inside the alliance.

In order to better understand the impact that EUTOPIA can have on our community of students and researchers, we have interviewed the people who represented our university during some of the events that were organised during the EUTOPIA Week in Ljubljana.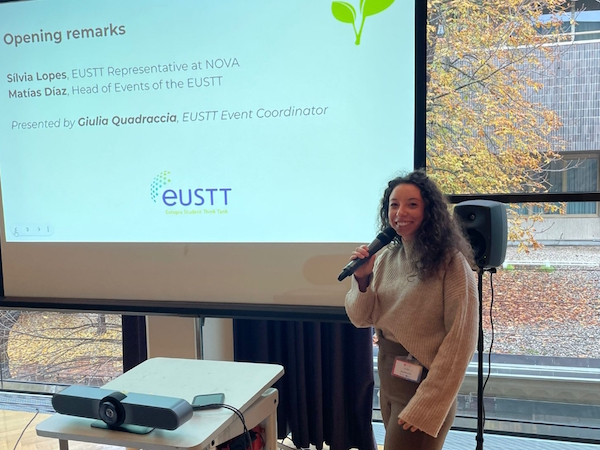 Giulia Quadraccia, who is enrolled in the second year of the 'Language and Management to China' master's degree programme, is the Event Coordinator for EUTOPIA Student Think Tank.
How did you first learn about EUTOPIA?
I first learned about EUTOPIA through social media, thanks to the Instagram channels of Ca' Foscari, EUTOPIA, and
EUTOPIA Student Think Tank
(EUSTT). I believe that social media are the most effective way to communicate with young people and to raise awareness of EUTOPIA within the wider student community. Social media also enabled me to become part of the EUTOPIA Community, first as the organiser of the BeEUTOPIAn Conference, and then as
Event Coordinator for EUSTT
and as the representative of Ca' Foscari's students during the EUTOPIA Week in Ljubljana.
What is the EUTOPIA Student Think Tank?
EUTOPIA Student Think Tank or EUSTT is a student-led organisation that mainly focuses on publishing research conducted by university students. Its aim is to give students a voice and create a space where knowledge is shared, as well as to promote the participation of students in decision making processes and to support students inside the EUTOPIA Community.

EUSTT is currently the only student organisation inside the EUTOPIA alliance, so it also works to organise events for students, such as the BeEUTOPIAn Conference. The first BeEUTOPIAn Conference was held in April 2022 in Brussels, and it was an opportunity for students of the alliance to get together and discuss their role, the possibilities offered by EUTOPIA, and the issues that the pandemic raised inside our universities.
What events did you participate in during the EUTOPIA Week in Ljubljana?
During the EUTOPIA Week in Ljubljana, EUSTT hosted 'Student Voices for a Greener Europe', an event that focussed on sustainability. I participated in this event as a presenter and I interacted with the public. This event was organised by students, for students, so it was planned to be as interactive as possible and to create an atmosphere that was collaborative, diverse, and inclusive.

During the EUTOPIA Week in Ljubljana, the EUTOPIA Student Council met for the first time. I participated as a representative for Ca' Foscari students. The Student Council elected a new president and reached important agreements regarding the next steps to take.

Last, but not least, I couldn't miss the Science Slam, where I supported two members of the Ca' Foscari community, Marco S. Nobile and Ivan Lo Giudice. It was fantastic to see how young researchers were able to describe their complex research projects with methods that were innovative enough to make their presentations not only understandable, but actually captivating for the public.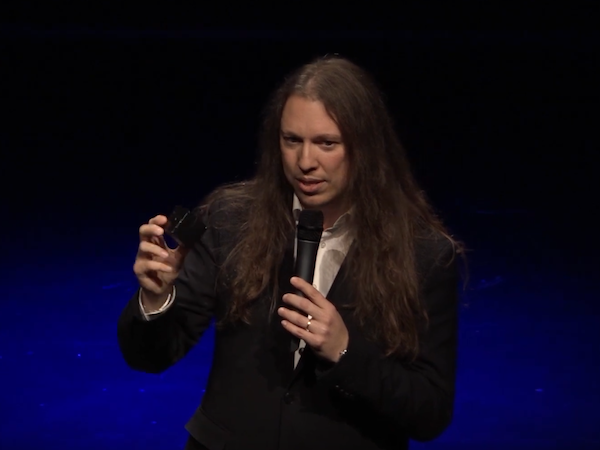 Marco S. Nobile holds a PhD in Information Technology and is currently conducting research at the Department of Environmental Sciences, Informatics and Statistics at Ca' Foscari.
What is the Science Slam about?
Science Slam
is a science communication event in which young researchers deliver short talks about their research projects. Their explanations don't include the use of screens, projectors or boards, although they can use an object or prop — in my case it was an enigmatic black box. The Science Slam format requires a great degree of preparation and effort to communicate scientific content to a non-expert audience, both in terms of language choices and on non-verbal communication. All of the "slammers" did an excellent job, rising to the challenge of conveying extremely complex concepts in very little time and in a clear and captivating way.
What words would you use to describe your experience?
It was certainly a positive experience. All the slammers were prepared, motivated, and precise in their presentations. Despite a few (inevitable) technical difficulties, the event was pleasant and well organised. I had the chance to learn new things about fields that are very different from mine, and to spot potential for future collaborations.

Is communicating research to the general public useful?
I have no doubt that it is, especially in the last few years, because a certain "distrust" of science and technology has developed and been fuelled by social media bubbles. I believe it is important that we help the greatest possible number of people learn about what we do, why our research is relevant for society, and the impact our research has on our everyday lives. The audience at Science Slam was very lively and showed keen interest in all the topics we presented.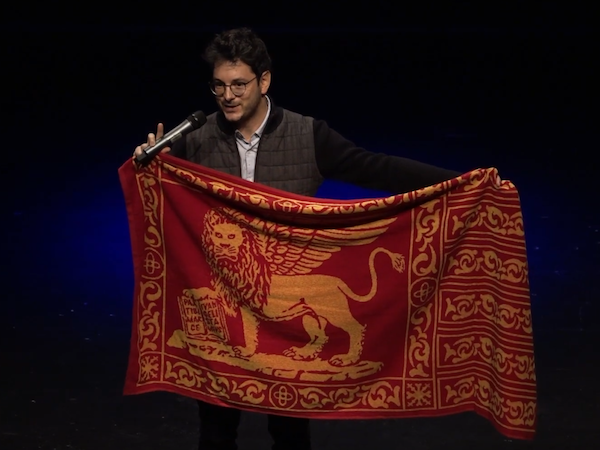 Ivan Lo Giudice is a cotutelle PhD candidate at Universitat Pompeu Fabra in Barcelona and at the Department of Linguistics and Comparative Cultural Studies at Ca' Foscari.
How did your cotutelle PhD programme come about?
My study interests led me to Catalonia and Barcelona, a city that I was already familiar with, having spent a semester as an Erasmus student at Universitat Pompeu Fabra. However, being Venetian and having studied at Ca' Foscari, I didn't want to interrupt my relationship with my university, its professors, and my hometown. This is why I came up with the cotutelle idea, which has allowed me to conduct research at both universities.
When did you first hear about EUTOPIA?
I first heard about EUTOPIA in my first years as a PhD candidate. In fact, the alliance was created in 2019. It was a completely new project and initially I didn't know if it would offer any opportunities to young researchers like me. Then a few years later I read that Ca' Foscari was going to join the alliance, so I gladly welcomed this news: both of my PhD institutions are part of the alliance.
Is this your first participation in a EUTOPIA initiative?
Actually, it isn't. A few months ago I travelled to the University of Gothenburg thanks to a Doctoral Mobility Program. Thanks to this funding I was able to spend five weeks in Sweden and to continue my work in the Centre for European Research at the University of Gothenburg - CERGU. It was a very intense and productive stay. It enabled me to get out of my comfort zone and to delve into a completely new and stimulating environment. During those five weeks I met various researchers who work at the University of Gothenburg and we exchanged views on various topics. I was able to present my research project to CERGU and get some valuable feedback for future developments.