from
November 21, 2022
to November 25, 2022
Published on August 29, 2022
–
Updated on November 17, 2022
EUTOPIA Week in Ljubljana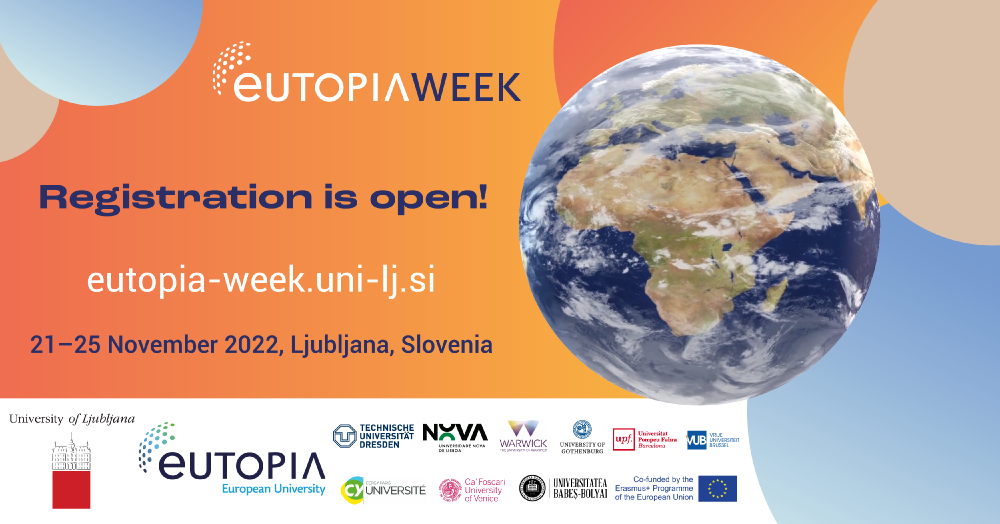 REGISTER TO THE EUTOPIA WEEK IN LJUBLJANA

University of Ljubljana is hosting the EUTOPIA Week from November 21 to November 25. You can expect to see a programme filled with activities for all – students, researchers, and all EUTOPIA staff. There are limited number of places available for each event, so we suggest registering early!

This EUTOPIA Week's slogan is University of the Future, Universe of Opportunities. It highlights EUTOPIA Alliance as a future-oriented transnational university where students, researchers and societal actors collectively develop new ways of reaching a better and sustainable trajectory for each and every one of us. In doing so, it strives to become a sustainable university whose priority is to reflect on societal challenges and empower students and staff to make sustainability a central priority. It is not only a place for brewing ideas, but a vehicle of action. Many successful projects have come to fruition in the last couple of years, many are still in action, and some are yet to come. There will certainly be plenty of opportunities to engage in meaningful discussion during the official part of the EUTOPIA Week programme, as well as take part in cultural visits, networking opportunities and more.

Throughout the five-day programme, we will host many experts, such as prof. dr. Maruša Bradač, assoc. prof. dr. Lela Mélon and prof. dr. Pippa Norris. Along with other academics and professionals they will deliver presentations, engage in panel discussions and lead workshops on interesting topics of timely importance in their respective fields.

For those not able to attend this EUTOPIA Week in person, most events are hybrid and can be followed online. Read more about specific events, speakers, and other exciting opportunities for broadening you horizons during EUTOPIA Week in Ljubljana on the official website and don't forget to register here.

We hope to see you there!
A welcome word from University of Ljubljana rector, prof. dr. Gregor Majdič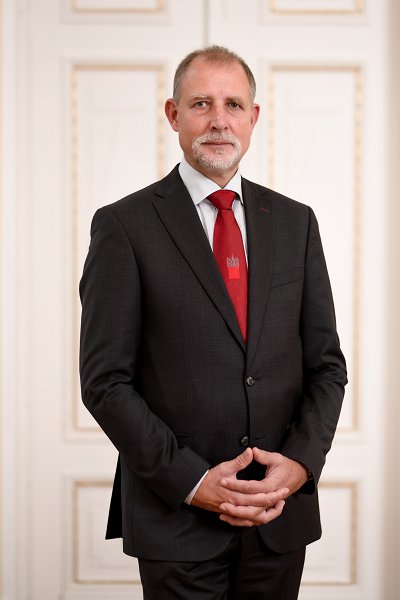 At the end of this November all EUTOPIANS will meet in Ljubljana on the occasion of the last EUTOPIA week of EUTOPIA2050 projects. However, this does not mean the end of EUTOPIA. During the first four years EUTOPIA has developed into a close relationship among the member universities. We grew from an initial 6 universities to a network of 10 European universities from different European regions, covering Europe from North to South and from West to East.

Through EUTOPIA we have already provided numerous opportunities for our students and staff to meet, study and work together as one team. Students and staff are already benefiting from the exchange of ideas and collaboration, although there is certainly room for improvement. We should bring EUTOPIA to all our students and staff, everyone at each member university should know what EUTOPIA is, what the goals and benefits of collaboration are, everyone at our universities should feel like "EUTOPIAN". This is a task for university leaders, and I am sure we can do it. Although some of us have not been part of EUTOPIA from the beginning, we all feel a sense of belonging to EUTOPIA, and most importantly, we have developed a deep trust and profound understanding of each other. As one of my fellow rectors once said - the EUTOPIA alliance is different from normal research consortia. Within EUTOPIA we have developed a sense of connectedness and trust that allows us to discuss a variety of things, not only what is good about our individual universities, but also what is not so good, what we need to improve, and how we can improve through interaction with other EUTOPIA universities.

EUTOPIA has passed its first infant years, and now it is time to move on. We are very happy to have secured funding for the new project EUTOPIA MORE and I am sure we have very exciting years ahead. If we are to fulfil the European Commission's wish and idea of creating a European university, we need to bring our universities even closer together. Joint and double degrees, more staff exchanges, joint research projects, exchange of administrative and support staff, bringing closer our habilitation criteria - these are just some of the things we need to work on if we really want to create a close-knit, unified academic community. I strongly believe that all of our rectors share this vision, and we will accomplish all of these tasks and challenges in the next EUTOPIA projects.

Our meeting in Ljubljana will provide a great opportunity to celebrate the many achievements of the past, but we will also focus on discussions about approaches and strategies for further development of EUTOPIA. Therefore, I would like to welcome you all very warmly to Ljubljana to celebrate our EUTOPIA.

We look forward to meeting you all in our small but very beautiful Ljubljana. Although the weather in November may not be the best, I would like to suggest to all of you who will have a little more time to go outside of Ljubljana and see a little bit of Slovenia. It's not hard to do, as Slovenia is a very small but very diverse country. From Ljubljana you can reach high Alpine peaks in 30 minutes, be on the Mediterranean coast in an hour, visit some spectacular karst caves among the more than 15000 karst caves that we have in Slovenia (western Slovenia is a bit like Swiss cheese), or in an hour and a half you can be amid the rolling hills, plains and vineyards of eastern Slovenia

Slovenia is indeed a unique country, with many lovely places and opportunities to offer, it is one of the few countries to have word LOVE in its name. We all feel Slovenia and I invite you to FEEL Slovenia with us.