from
February 11, 2023
to February 18, 2023
Published on February 8, 2023
–
Updated on February 13, 2023
EUTOPIA celebrates its female researchers - International Day of Women and Girls in Science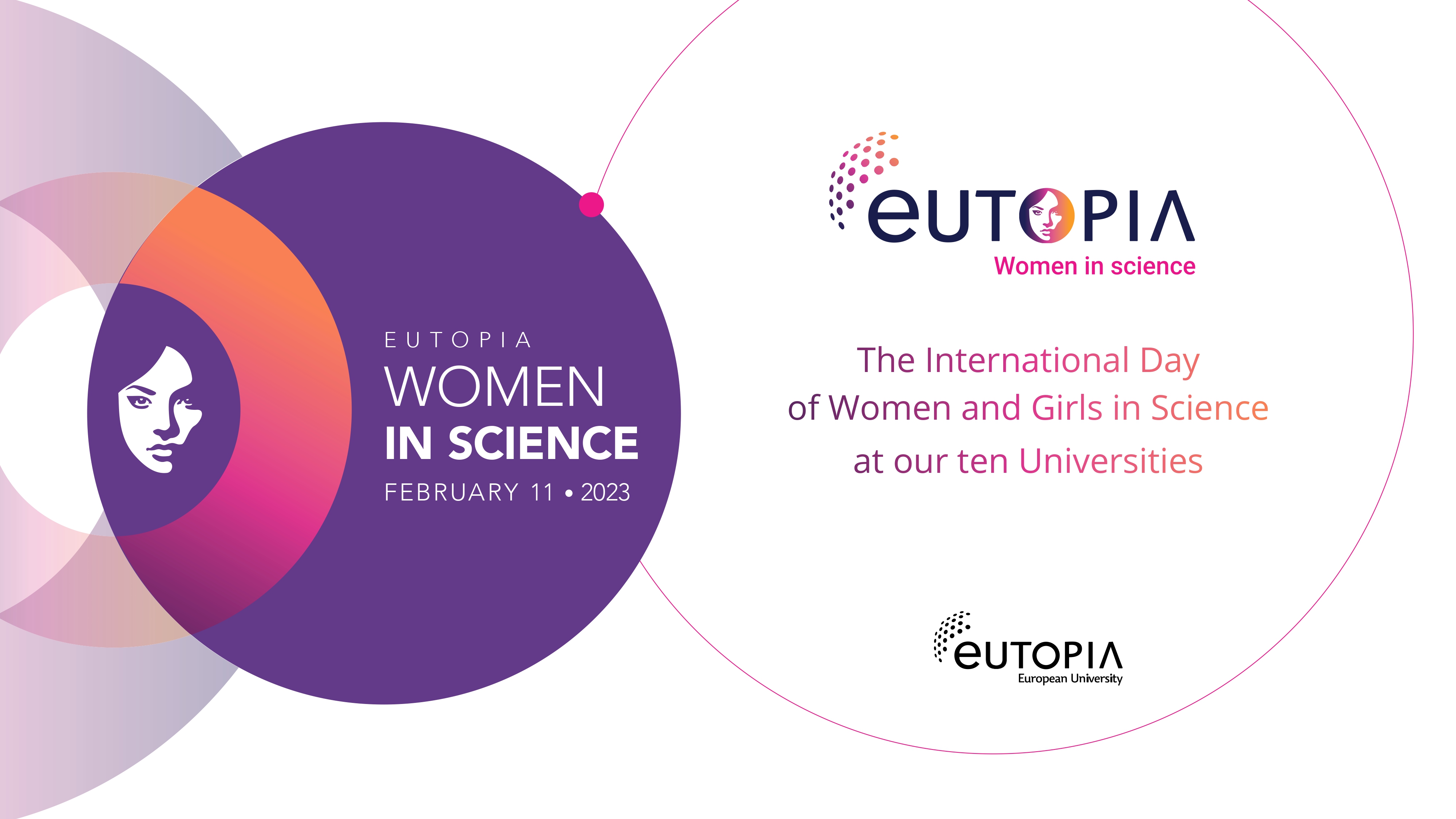 Get to know some of our female researchers from the ten EUTOPIA universities:
From the Universitatea Babes-Bolyai

Alida Timar-Gabor WomenInScience


Alida Timar-Gabor: "Women represent half of the world`s available talent. The last century brought major changes for women in STEM and we should be very proud of this progress. However, we should understand that changes that are to come will be at a much higher rate, a pace that is hard to grasp, and that we first need to understand.
According to a 2021 UNESCO report women account for 70% of employees in jobs with a high risk of automation but only 43% of employees in jobs with a low risk of automation. It is expected that half of the current types of jobs will disappear by 2050 and yet less than 2% of 15-year girls have plans to become engineers or scientists.
It is hard to understand the severity of these predictions without scientific education. The world needs scientific education. The world cannot afford to lose so much talent!"



Alina Sesarman WomenInScience


Alina Sesarman: "We will occasionally experience setbacks or obstacles because science can be a difficult field for everyone.
It's crucial, however, to stay true to who we are, to persevere, and to take chances in order to pursue outlandish concepts. That, along with a great deal of enthusiasm for science and creativity, can help solve complex issues from new angles while also pushing the bounds of what is understood and feasible.
Follow your dreams and venture out into the world!
Furthermore, only for those who are willing to see luck, this exists, as my best friend once said."

From the Vrije Universiteit Brussel

Cleo Goyvaerts WomenInScience




Fatima Zahid Ali WomenInScience

From the Università Ca' Foscari Venezia

Elena Semenzin WomenInScience


Elena Semenzin is Associate Professor of Environmental and Cultural Heritage Chemistry at the Ca' Foscari Department of Environmental Sciences, Informatics and Statistics. She is also the Rector's Delegate for Sustainability. Professor Semenzin obtained her PhD in Environmental Sciences at Ca' Foscari University of Venice, completing it with a Marie Curie fellowship at Wageningen University (Wageningen, Netherlands).

Her research focuses on Environmental Risk Assessment for traditional and emerging pollutants (e.g. nanomaterials) along the life cycle of products and processes, including the concept of safe- and sustainable-by-design.
She also deals with the assessment of environmental sustainability (using environmental footprint and life cycle analysis) and its integration with social and economic tools.

As Ca' Foscari's Delegate for Sustainability, she's currently involved in the EUTOPIA MORE WP2 "Facilitating connectedness", particularly in the 2.5 task "Transformation through Sustainable Development"

From CY Cergy Paris University

Katerina Tzompanaki WomenInScience


Katerina Tzompanaki is an associate professor at CY Cergy Paris University, and the co-director of the IISC Master Program. She is affiliated with the Multimedia Indexing & Data Integration team at ETIS. Her current research interests are in the field of data provenance, model explainability, and data privacy. She was project manager for the ETIS Gender Equality & Parity initiative from 2020 to 2022.



Yannicke Chupin WomenInScience


Yannicke Chupin is an associate professor at CY Cergy Paris University. She is affiliated with the Héritages research unit, where her work focuses on reflective writing in 20th and 21st Century North-American literature, and notably the works of Vladimir Nabokov and Ben Lerner.

From the Technische Universität Dresden

Yael Politi WomenInScience

From 2019: W3 Professor "Bioprospecting", B CUBE – Center for Molecular Bioengineering, Technische Universität Dresden, Germany
2012-2019: Group Leader "Biological chitin-based tools and sensors", Max-Planck Institute for Colloids and Interfaces, Department of Biomaterials, Research Campus Golm, Potsdam, Germany
2009-2012: Postdoctoral Position, Max-Planck Institute for Colloids and Interfaces, Department of Biomaterials, Research Campus Golm, Potsdam, Germany, Advisor: Prof. Peter Fratzl
2005-2009: Ph.D. Program, Weizmann Institute of Science, Department of Structural Biology, Rehovot, Israel, Advisors: Prof. Lia Addadi and Prof. Steve Weiner"

From the University of Gothenburg

Charlotte Hamngren Blomqvist WomenInScience




Julia Johansson -

Julia Johansson

We are excited to share that we, Charlotte Hamngren Blomqvist (principal research engineer), Julia Johansson (master student), and Caroline Beck Adiels (associate professor) from the University of Gothenburg, recently had the opportunity to collaborate with Prof. Leo van Grunsven's LIVR (Vrije Universiteit Brussel, Belgium) research group as part of the Connected Research Community (CRC) called "Primary co-cultures in Liver on Chip (PicLOC)". This project was made possible through the generous funding of the EUTOPIA alliance, which allowed us to bring together a group of experts on our Liver-on-a-chip microfluidic device from the University of Gothenburg with liver researchers from the LIVR research center at Vrije Universiteit Brussels.



Caroline Beck Adiels -

Caroline Beck Adiels

The impact of metabolic diseases affecting the liver is growing fast, and many drugs, unfortunately, lead to liver toxicity. Our goal is to create a first-of-its-kind artificial liver tissue on-chip with the architecture and function of the human liver. This liver-on-chip technology will enable the long-term growth of liver-specific cell types within a biomimetic microenvironment, differentiate on-chip stem cells and patient-specific primary cells, and monitor their growth and response to drugs. Our long-term research targets are the design of a user-friendly multiwall device for high-throughput studies, identifying new drugs, developing personalized treatments and drugs, and integrating the liver-on-chip within a body-on-chip.

During a month-long visit, the team from GU (including the visiting researcher Reza Mahdavi) prepared jointly with the hosting team at VUB the liver tissue on-chip (LOC)-devices for seeding with cells from a variety of sources, e.g., mouse liver cell line, primary mouse liver cells, mouse liver spheroids, human-derived pluripotent stem cells.

We held a lab group seminar to explain and tutor the hosting lab on the theory, fabrication, and use of liver tissue on chips (LOCs) and a demonstration on assembling, seeding, and sampling from them. The hosting lab tutored us on isolating primary mouse cells, and members of both labs jointly performed the downstream experiments.

This visit strengthened our two labs' collaboration, extending to exchange teaching and a joint proposal. This visit was a powerful reminder of the importance of in-person interactions and sharing experiences, and we look forward to continuing this work and exploring more exciting opportunities in the future.



Emma Bjorner WomenInScience


Dr. Emma Björner is a researcher at Gothenburg Research Institute, the School of Business, Economics and Law, University of Gothenburg. Her educational background is in business administration and marketing as well as media and communication. Emma's research centres on sustainable tourism, place branding, place development and destination management. Key topics in her research and teaching are inclusion, co-creation, experiences, consumption, food, events, digitalisation, and immersive technologies. One of her current research projects is titled The role of tourism in multicultural societies (TiMS). At the University of Gothenburg, Emma is a member of the Centre for Tourism and the Centre for Consumption Research.

In the beginning of 2022, my colleague Eva Maria Jernsand and I got the exciting task to start a Eutopia community including researchers and practitioners with a focus on tourism and experiences. We began reaching out to potential participants and formed a group of researchers from CY Cergy in Paris, Ca'Foscari in Venice, Pompeau Fabra in Barcelona and NOVA University in Lisbon, which developed into a Connected Research Community Incubator on Tourism and Experience. The purpose of our community is to explore possibilities for joint research and education, for example by applying for European research funding together. During a first physical meeting in Gothenburg in September 2022, we got to know each other's research fields and discussed possibilities for collaboration. We also met with practitioners in Gothenburg and Sweden that work with tourism and experiences, such as the innovation programme Xperience Next and the local DMO Göteborg & Co. We are now working on several projects and applications together and plan to meet again in person in Venice, in May 2023.

From the NOVA University of Lisbon

Cecília Roque WomenInScience


Cecília Roque: "I am a bioengineer with training in multicultural and interdisciplinary environments. EUTOPIA is an excellent collaborative concept. It will contribute to widening my research's impact and train new generations of responsible innovators."



Ana Barroso Abecasis WomenInScience


Ana Barroso Abecasis is Assistant Professor at Institute for Hygiene and Tropical Medicine (IHMT), NOVA University of Lisbon. She trained as Medical Doctor (NOVA University of Lisbon, 2014), has a previous degree in Pharmaceutical Sciences and specialization degrees in Bioinformatics and Medical Microbiology. She did her PhD in Medical Sciences at the KU Leuven (Belgium,2009) working in evolutionary dynamics of HIV-1.

She coordinates the research line of Global Pathogen Dispersion & Mobility of Populations at the Global Health and Tropical Medicine Research Center. She is member of several European networks of phylodynamics and antiviral drug resistance, including European Virus Bioinformatics Center, EuResist and European Society for Translational Antiviral Research. Her research interests include Virology, Antiviral Drug Resistance, Bioinformatics, Evolution and Global Health.

In 2012, received the L'Oreal Portugal FCT Unesco Medal of Honour for Women in Science.

Ana has published around 87 articles in international peer-reviewed journals, with an h-index of 26 (Google Scholar) and 21 (ResearcherID).

Ana teaches at several Masters and Doctoral Programmes at the IHMT and NOVA University.

"My collaboration in EUTOPIA network is mostly with the Vrije Universiteit Brussel, with whom we have collaborated in several previous projects. Together with Professor Pieter Libin from the Artificial Intelligence Research Group at VUB, we have developed a project 'PADRE: Predicting Antiviral Drug Resistance before its Emergence', that will fund the PhD project of one research student. I have also collaborated with the University of Ljubliana in other projects, related to HIV-1."

From the University of Ljubljana

Natalija Majsova WomenInScience


Natalija Majsova: "I have learned over the years that following your passion also means not being afraid to let go of frameworks that feel comfortable or seem desirable. In research, this refers to trusting the process, the power of questions, and the unpredictability of corpora. In academia more generally, it involves cultivating an attitude of openness: not only to new approaches, but also to new connections, collaborations, friendships, and the diversity of career paths.

Embracing this attitude against the demands set by funding bodies, employers, and the pace of modern academia is a great challenge, especially for women. But it is, in my opinion, key to science and to one's well-being, to not let these external mechanisms overtake your research, confidence, or sense of self."

Natalija Majsova is an associate professor of cultural studies at the University of Ljubljana. Her research cuts across memory studies, film and media studies, heritage interpretation, and (post-)socialist popular cultures. She is especially interested in the mechanisms of collective memory and remembrance practices at the nexus of projections of the future and imaginaries of the past, and in how gradual technological transformations contribute to nostalgias for past utopias.Her publications include Memorable futures: Soviet science fiction cinema and the space age (Lexington books, 2021) and Faith in a Beam of Light: Magic Lantern and Belief in Western Europe, 1830-1940 (co-edited with S. Lenk, Brepols, 2022). She is co-editor-in-chief of the journal Social Science Forum (with T. O. Črnič) and an occasional film critic.

From the Universitat Pompeu Fabra Barcelona

Davinia Hernandez Leo WomenInScience


Davinia Hernández-Leo is full professor of Engineering and Information and Communication Technologies and Serra Húnter Fellow at Universitat Pompeu Fabra (Barcelona), where she teaches and conducts research on human-centered computing, network and computer applications, and learning sciences. Specifically, her research is focused on the intersection of these fields, framed in the area of Learning and Collaboration Technologies. She is the head of the Interactive and Distributed Technologies for Education research group (TIDE) and Commissioner for research in educational innovation at UPF. She is also currently an ICREA-Academia fellow.

Prof. Hernández-Leo received the Telecommunications Engineering and the Ph.D. degrees from Universidad de Valladolid, Spain, in 2003 and 2007, respectively. She has been visiting researcher at Open University of the Netherlands in 2006, Fulbright Scholar at Virginia Tech in 2012, and visiting academic at the University of Sydney in 2015. She is a former Vice-Dean of the UPF Engineering School and former head of its Unit for Teaching Quality and Innovation.

She has been Vice-President of the European Association for Technology-Enhanced Learning, a Associate Editor of the IEEE Transactions of Learning Technologies, chair of the IEEE ICICLE SIG on Learning Technology Data Standards and is currently an elected member of the CSCL Committee within the International Society of the Learning Sciences and member of the Steering Committee of the European Conference on Technology-Enhanced Learning.

Prof. Hernández-Leo has published extensively and has received several awards, including conference best paper awards (ICALT2004, ID+TIC2009, CAE2010, finalist EDEN2015, finalist ICALT2020), best demo recognitions (ECTEL2013, ECTEL2018, ECTEL2021), a European award for excellence in the field of CSCL technology, and tech-transfer and social impact recognitions (IMS, ITWorld, GSMA, UPF). Prof. Hernández-Leo has been also awarded with several teaching recognitions by the UPF Board of Trustees and by the Catalan Government (Vicens Vives).

Her research activity is broadly centered on the domain of learning technologies, spanning fields such as learning design technology, computer-supported collaborative learning (CSCL), community platforms, learning analytics, and architectures and devices for learning. Currently, she is looking into the interplay of learning design with data analytics, with an emphasis in the domain of CSCL.



Carmen Perez Vidal WomenInScience


Carmen Pérez Vidal is a full professor of the Department of Translation and Language Sciences of the UPF.
She obtained a Master's degree in Applied Linguistics (Reading, UK) and the following degrees in Hispanic Philology (UAB) and English Philology (UB).
She is an official translator of French and English. She researches language acquisition in bilingual and multilingual situations, the age factor and multilingualism, the age factor and the impact of mobility, both in European and national projects.
She has directed the Language Teaching Program at UPF for many years

From the University of Warwick

Maria Tryfonos WomenInScience


Maria Tryfonos is a final year PhD student, supervised by Prof. Jan Brosens (Warwick) and Prof. Hilde Van de Velde (VUB) working on recapitulating implantation outside of the body using a 3D endometrial model.



Sanchari Deb WomenInScience


Sanchari Deb is associated with Power and Control Laboratory of University of Warwick as EUTOPIA SIF Fellow. Earlier, she was associated with Smart e fleet group of VTT, Finland. Her research interest is e mobility especially on charging infrastructure and Vehicle Grid Integration.



Xiaocui Wu WomenInScience


Xiaocui Wu is a Marie Curie cofund EUTOPIA-SIF fellow in the department of chemistry at university of Warwick.
Her research is highly interdisciplinary combining cutting-edge scientific topics in materials science and aims to bring high impact to the development of next-generation technologies.
These have uses in modern technologies ranging from solar cell material to LEDs and human bioelectronics (pacemakers, blood pressure monitors and implants).