Summer Student Conference: Rethinking the UN SDG Agenda in the Post-Pandemic Era
A new Student-led Conference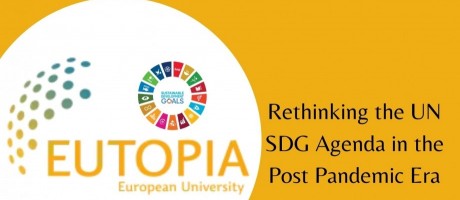 Rethinking the UN SDG Agenda in the Post-Pandemic Era: Building New Priorities, Facing New Challenges and Seizing Opportunities
The students of the Learning Community Geography, environment and sustainability are hosting a series of conferences from June 30th to July 2nd:
"Rethinking the UN SDG Agenda in the Post-Pandemic Era: Building new priorities, facing new challenges and seizing opportunities"

From international organizations to our own little communities and families, everything has been shaken by the current COVID-19 pandemic. Global problems associated with poverty, hunger, and health have been foregrounded. When it is just a decade to reach the deadline of the SDGs and the 2030 Agenda, the path seems to have dramatically changed.

The conference will be student-led, strengthening the student-centered value emphasized in the alliance, giving a main role to them, their rich ideas and voices speaking from all over Europe.

This event will take on the particular effects of the health crisis on the SDGs, especially in cities, on inequalities, consumption, and other topics in a transdisciplinary way. The Conference also encourages the participation of experts in the fields and university students in order to create a joint conversation, necessary to widen our perspectives and therefore work towards these goals while leaving no one behind.
What's on the program, who's speaking, and how to register?
https://eutopia-university.eu/english-version/students/summer-student-conference-rethinking-the-un-sdg-agenda-in-the-post-pandemic-era
This website uses cookies.
Cookies allow us to personalize content and ads, provide social media features and analyze our traffic.
We also share information about the use of our site with our social media, advertising and analytics partners, who may combine this with other information that you have provided to them or that they have collected during your use of their services.

En savoir plus
Vous avez donné votre consentement pour le dépôt de cookies de mesures d'audience dans votre navigateur.
Vous vous êtes opposé au dépôt de cookies de mesures d'audience dans votre navigateur.
Le paramètre "Do Not Track" est actif sur votre navigateur. Aucunes statistiques de navigation ne seront collectées.