Expert Seminars Season 2: Inclusion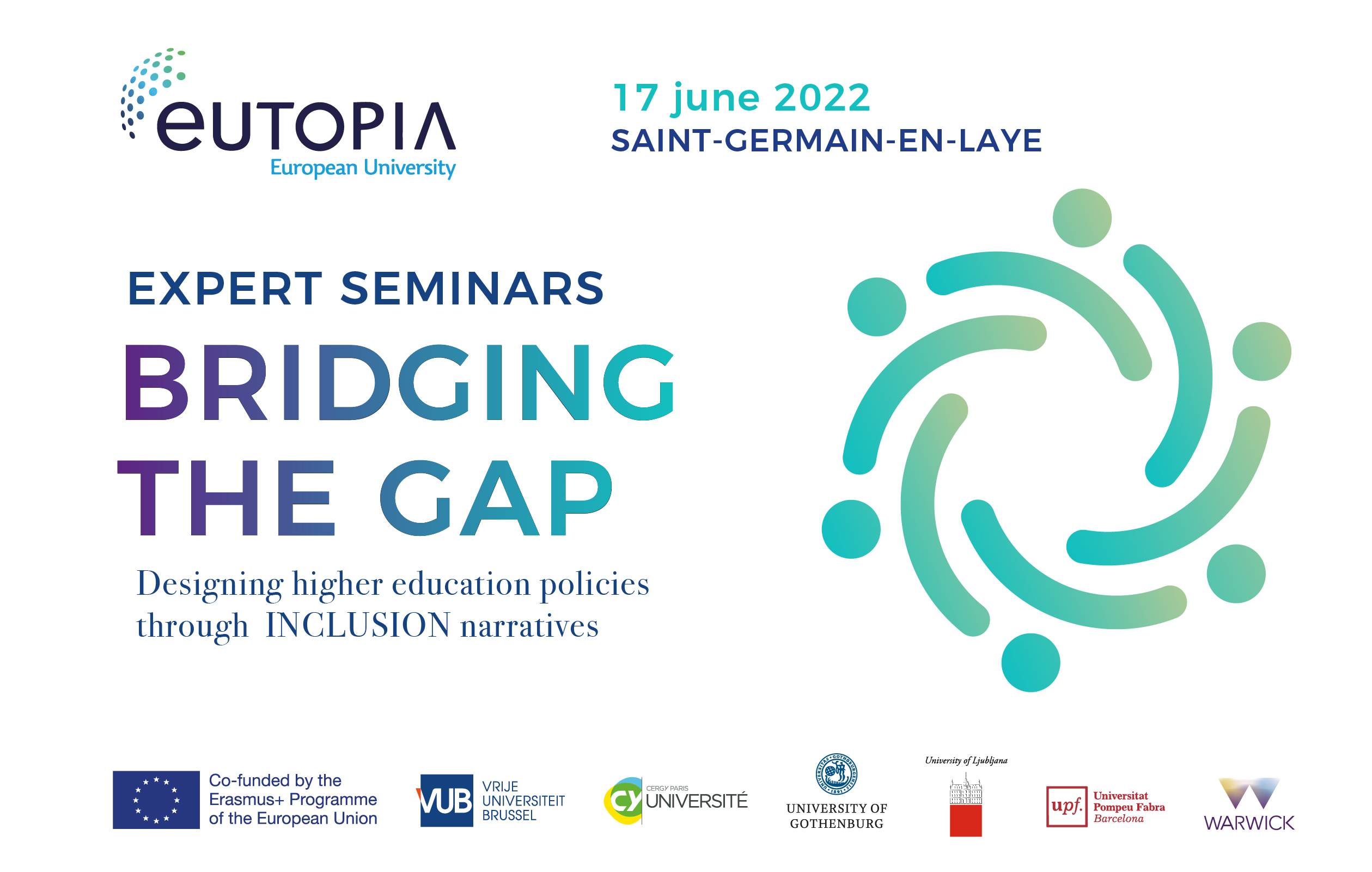 As an alliance of ten European like-minded universities, EUTOPIA's project is to provide equal learning opportunities for all groups of students and especially those who are disadvantaged because of their gender, race, ethnicity, immigrant background, economic status, disability, and so on. To this end, the project seeks to achieve two goals: develop recommendations and initiatives promoting equality and inclusion for the disadvantaged groups, and jointly build expertise on how the European principles of openness and inclusion could be applied to Higher Education institutions in all European regions, including the Western Balkans. By ensuring inclusion and participation, we aim at creating a university of the future open to everyone.
Inclusive higher education contributes to individual development and well-being and increases educational opportunities. It also drives convergence upwards in higher education itself, thus creating a dynamic virtuous spiral. Higher Education institutions can act as direct role models for the broader society and help the transformative development of social justice and inclusivity. Each day EUTOPIA walks one step closer to implementing inclusivity in its programmes.
The seminar Bridging the Gap: Designing Higher Education Policies through Inclusion Narratives intends to bring in "expert by experience" voices (students and external stakeholders, including other alliances and a member of the European Parliament), which narratives are important to understand the shared meaning of disadvantage, develop recommendations and initiatives, design strategies, methods, research programmes, and raise awareness of diversity. With their help, EUTOPIA aims to become best equipped to sharpen concrete engagement, structural modelling, and real-life benefits.

The seminar took place on the 17th of June 2022, for the whole day, at Ix Campus in Saint-Germain-en-Laye (34 Rue de la Croix de Fer, 78100, Saint-Germain-en-Laye)
NOTA BENE: the seminar is by registration only. Registrations closed the 8 June 2022.
Download the
brochure
of the Seminar
Browse the Seminar's programme
here
Discover the Seminar's Speakers
here

How to get to the campus:
The iX Campus is easily accessible through multiple means of transportation:
The main train station connecting to Paris is the '
Saint-Germain-en-Laye
'
station (RER A, Trainline L).
This Station is a 30 minutes walk away from the campus. To get closer taking a bus is the better option. Either:
The R2 Nord line, from 'Saint-Germain-en-Laye' station, for 8 minutes then stop at 'Vieille Butte'. The bus stop is just in front of the campus.
The R4 line, from the 'Saint-Germain-en-Laye' stations, for 8 minutes to the 'Grande Ceinture' stop, which is 10 minutes away from campus.
The R2 Sud line, from 'Saint-Germain-en-Laye' station, for 17 minutes then stop at 'Vieille Butte'. The bus stop is just in front of the campus.
Click 'Directions' on the embedded map and fill in your starting location to use Google Maps.
https://eutopia-university.eu/english-version/research/expert-seminars/inclusion
This website uses cookies.
Cookies allow us to personalize content and ads, provide social media features and analyze our traffic.
We also share information about the use of our site with our social media, advertising and analytics partners, who may combine this with other information that you have provided to them or that they have collected during your use of their services.

En savoir plus
Vous avez donné votre consentement pour le dépôt de cookies de mesures d'audience dans votre navigateur.
Vous vous êtes opposé au dépôt de cookies de mesures d'audience dans votre navigateur.
Le paramètre "Do Not Track" est actif sur votre navigateur. Aucunes statistiques de navigation ne seront collectées.