Published on July 25, 2022
–
Updated on July 25, 2022
EUTOPIA Open Research through the OpenAIRE Connect Gateway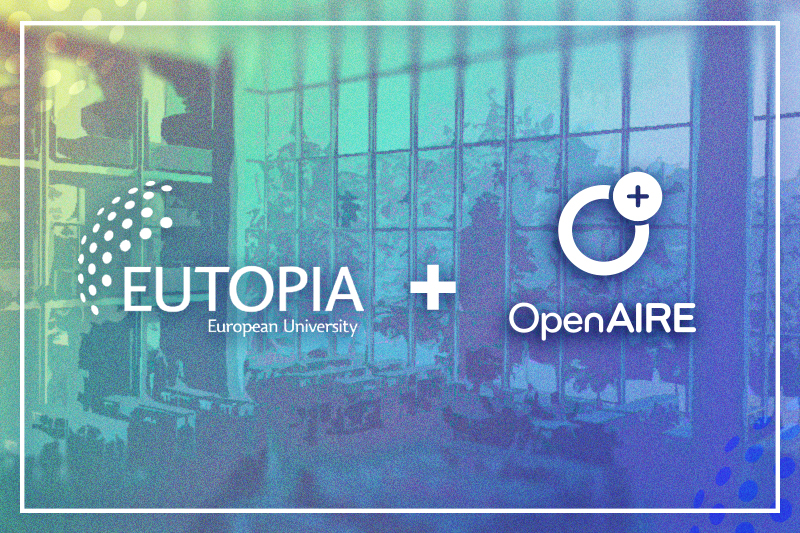 The EUTOPIA European University and OpenAIRE are delighted to announce their partnership. Both will work together to create a research portal for the ten EUTOPIA universities. The aim is to increase the findability and accessibility of EUTOPIA research and to serve as a starting point for new collaborations and partnerships among EUTOPIA researchers and their partners.

The universities of EUTOPIA seek to offer high-quality ser­vices to society while making sure that the pursuit and generation of knowledge are accessible to all participants of the alliance and beyond. Thus, its faculty members, researchers, students and staff work together to build a new academic model, reflecting an open and united Europe.
Making research results available to the public is part of EUTOPIA's commitment to being an open and inclusive alliance. Together with OpenAIRE, EUTOPIA will establish a dedicated portal for EUTOPIA through a CONNECT Gateway. The portal will work as a single point of access to all academic publications, data sets, research projects, software and other research outputs of the EUTOPIA universities.
A dedicated EUTOPIA Gateway through OpenAIRE Connect will also increase the accessibility and findability of EUTOPIA research and embed them in the EOSC ecosystem. This will allow researchers and in fact any interested party, from within and outside EUTOPIA to make maximal use of the research results produced by the ten EUTOPIA universities.

"Our collaboration with OpenAIRE is a crucial step in making EUTOPIA research more accessible to the world. It is one example of our commitment to being an open inclusive academy. Partnering with OpenAIRE to establish a joint research portal will only increase the impact and reach of all types of research and innovation taking place at EUTOPIA universities." Eva Wiberg, EUTOPIA Stategic Board Chair

"OpenAIRE's collaborations with EUTOPIA European University and its members is at the core of what we do: provide open scholarly communication services and use Open Science not only as the way forward for the emerging research generation but also as a means to interconnect people, institutions, research results. We are really happy to see that we may support this emerging collaboration in an out-of-the-box fashion. " Natalia Manola, OpenAIRE CEO


About OpenAIRE Nexus: The Horizon 2020 OpenAIRE-Nexus project, a consortium of 11 partners, brings in Europe, EOSC and the world a set of services to implement and accelerate Open Science and tools to embed in researchers' workflows, making it easier for them to accept and uptake Open Science practices of openness and FAIRness.
About OpenAIRE: OpenAIRE is a Non-Profit Partnership, established in 2018 as a legal entity, OpenAIRE A.M.K.E, to ensure a permanent open scholarly communication infrastructure and support research in Europe and beyond. OpenAIRE is making Open Science happen. Collectively and in practical ways. Its fields of expertise and activities include services, policies and training. Operating since 2009, OpenAIRE is an integral part and a leading force behind the European Open Science Cloud developments.