Published on November 8, 2021
–
Updated on November 8, 2021
The EUTOPIA project and the Glocal Challenges course
February 2021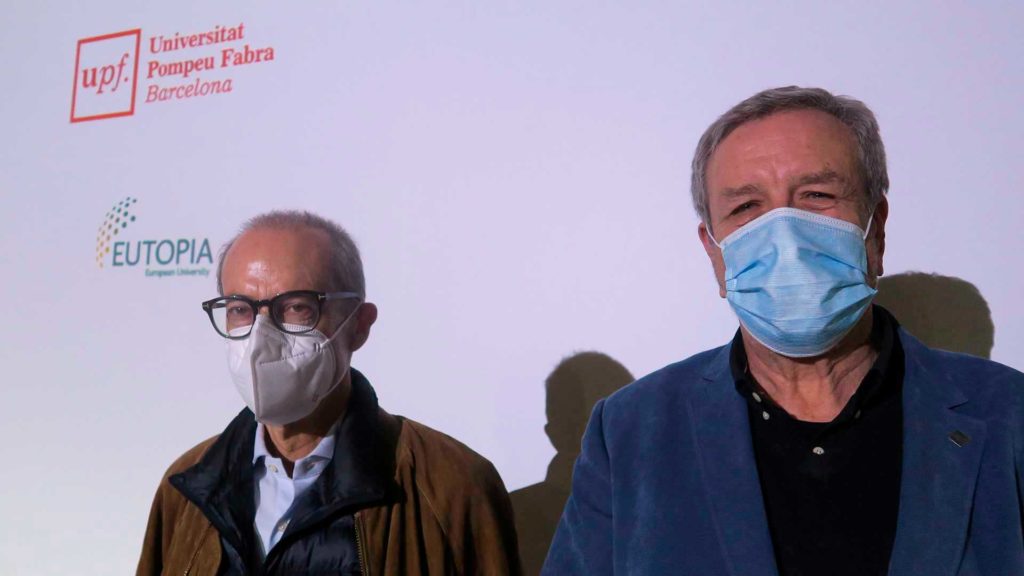 Albert Carreras (left), director of ESCI-UPF, and Pelegrí Viader (right), Deputy Rector of the UPF and Vice-rector for the European universities project Eutopia. / Photo: Archive ESCI-UPF
Pelegrí Viader, Deputy Rector of the UPF and Vice-rector for the European universities project Eutopia, and Albert Carreras, ESCI-UPF director,
had a chat on the Eutopia project and the Open Innovation Challenge and presented the Glocal Challenges course
.
Pelegrí Viader introduced the
Eutopia project
, an alliance of six European universities seeking to create a connected, inclusive community. The project plans to offer the possibility to enrol in a new model for higher education in Europe and study in different campuses each semester. The universities that are part of the project are
Vrije Universiteit Brussel
,
CY Cergy Paris Université
,
University of Gothenburg
,
University of Ljubljana
,
Universitat Pompeu Fabra
and
University of Warwick
.
As Viader explained, the Eutopia project goes further than an Erasmus. It eliminates most of the paperwork obstacles and integrates the teaching resources and capacities alongside the research bodies and the administrative staff. Viader underlined that the project aims to create one or more degrees recognized by the European Union, with official validity in all the EU. For the moment, the Eutopia project is at a pilot stage, testing all the possibilities to successfully transform a traditional degree into a European degree or exploring the creation of a brand-new degree such as Artificial Intelligence, for example.
Later on, the Deputy Rector of the UPF spoke about the
Open Innovation Challenge
, a part of the Eutopia project that intends to transform universities into actors of societal change, fostering international and regional collaboration with public and private partners. For this purpose, Viader presented the
Glocal Challenges course
. In this course, the students of the Eutopia project universities will have the opportunity to develop projects to find solutions to real social problems and concerns.
Viader explained the timeline and how the Glocal Challenges course is set-up. The intention is to create a maximum of 8-9 groups of students from different backgrounds that will face local challenges scalable to a global situation and come out with a project to try to solve it. At the end of the course, the students will present all the projects, and the most original and solidly-feasible will be chosen for the Eutopia Challenge Hackathon that will be held next October in Gothenburg along with the other Eutopia universities projects (postponed to February 2022). There, the six groups will be remixed and will work on a new challenge where three teams will be chosen to compete for the Final Prize at Warwick.
Pelegrí Viader and Albert Carreras encouraged all ESCI-UPF students to participate in the Glocal Challenges course and remind them that they can still apply to the enrollment process until March 7th.
Source:
https://www.esciupfnews.com/2021/02/25/eutopia-project-glocal-challenges-course/
#EUTOPIA #EuropeanUniversities #ESCI-UPF #EU #UPF