Partnerships

International

Unknown label
Published on September 26, 2023
–
Updated on September 26, 2023
EUTOPIA's Participation
at EAIE 2023 Conference in Rotterdam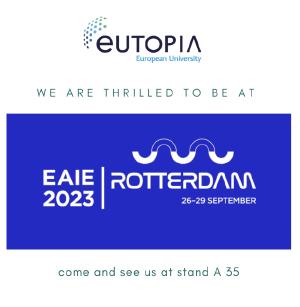 The 33rd Annual EAIE Conference and Exhibition, themed 'Connecting currents,' has brought together international education experts from across the globe at Rotterdam Ahoy from September 26 to 29, 2023. Rotterdam's rich maritime history is a backdrop to explore the ever-evolving and interconnected landscape of international education. Among the notable participants are representatives from the EUTOPIA alliance, actively contributing to discussions and sessions during the event.
Two noteworthy sessions, scheduled both for Thursday, September 28th, from 14:00 to 15:00, will see EUTOPIA members share their experiences. One is titled "How to turn student representation into student engagement: Insights from two European University alliances." This session dives into the crucial role that student representatives play in safeguarding student rights and bridging the gap between universities and students. It's here that EUTOPIA will be present with the participation of Karin Jonson from Gothenburg University, Sweden, and Paul-Adrien Viala from CY Cergy Paris University, France, and Président of EUTOPIA's Student Council, who should bring valuable insights into this topic.
In another compelling session titled "European Universities Initiative Alliances: Making Connections Beyond Europe," the focus is on the transformational impact of the European Universities Initiative (EUI). The EUI is profoundly reshaping European higher education and fostering international collaboration in faster and more challenging ways. Helena Ramalhinho Lourenço, Vice-Rector from Pompeu Fabra University, Spain, leads this discussion, showcasing the global implications of the phenomenon.
The participation of Karin Jonson, Paul-Adrien Viala, and Helena Ramalhinho Lourenço, along with other experts, underscores EUTOPIA's dedication to shaping with the 50 other European alliances the future of higher education in this part of the world.
The 2023 EAIE Conference in Rotterdam serves as a platform for universities and educators to connect, exchange ideas, and navigate the dynamic currents of international education, ultimately working towards a more interconnected and vibrant global education landscape. With the active engagement of EUTOPIA's representatives, this year's conference promises to be a source of inspiration and innovation for the higher education community.